VISIT THE NEW PIT BULL GALLERIES http://www.ukcpitbull.com/galleries/

This page is to honor REAL modern day dog-men and dog-women and their dogs. These are average people with extraordinary courage and competitive natures whose dogs have excelled, shown what a real American Pit Bull Terrier should be, and who are TRUE ambassadors for our breed. If every person who owned a pit bull had the courage and determination that these people (PROVE THAT THEY) HAVE (not just claim to have), our breed would not be in mortal danger at the hands of legislators, journalists, puppy mills, wanna-be pit fighters, irresponsible and uneducated owners, and animal activists.

This page is dedicated to those dogs that have earned quadruple event titles in the UKC.
HEY TAKE SPECIAL NOTE: The first dog of ANY BREED to ever earn quadruple titles in the UKC was guess what breed?
That is right! An American Pit Bull Terrier was the very first!
Thus, I am proud to introduce to you Penina!
SUPER DOG #1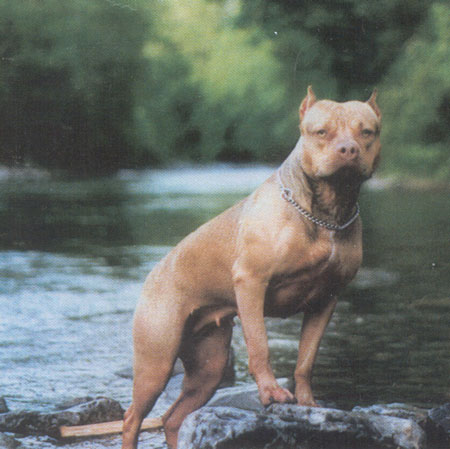 SUPERDOG UWP UAGCH UUD CH 'PR' Columbia River Penina MuuMu DNA-P OFA, CGC, TT, TC, NJC
CLICK ON PENINA's PICTURE TO READ HER STORY
UWP= United Weight Pull title holder
UAGCH United Agility Champion title holder
UUD = United Utility Dog title holder
CH= Conformation CHampion title holder
CGC = Canine Good Citizen certificate holder
TT = Temperament Tested certificate holder
TC= Temperament certification holder
SUPER DOG
LEGIT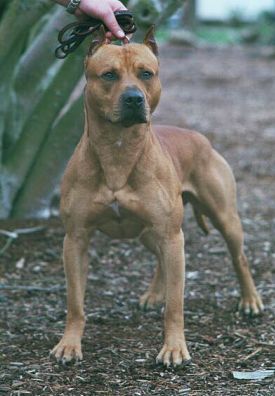 SUPERDOG UWP, UAG, UCD, GRCH PR Triple Legit ["Legit"]
SUPER DOG XENA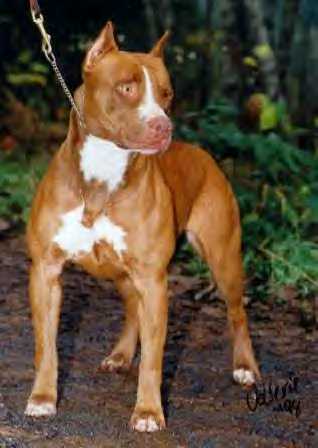 SUPERDOG UWP, UCD, UAGI, GR CH. 'PR' Ro-Ki's Warrior Princess, CGC,
(CLICK ON ZENA TO GO READ HER STORY)


SUPER DOG Gabby
SUPERDOG U-CD, UWP, UAGI, CH. 'PR' Ro-Ki's Simply Irresistible, CGC
(CLICK GABBY TO GO TO HER PAGE)
SUPER DOG BUDDY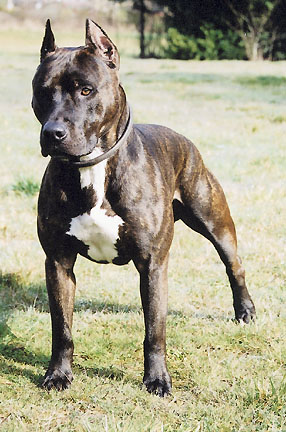 SUPERDOG! UAGI UCD UWP GRCH 'PR' Heron Falls Risky Business CGC TT
(CLICK ON BUDDY TO GO READ HIS STORY!)
Super Dog Klicker
SUPERDOG UWP UACH UCD GRCH 'PR' Marauders Klickitat of Vintage DNA-VIP TT CGC
Super Dog Morpheus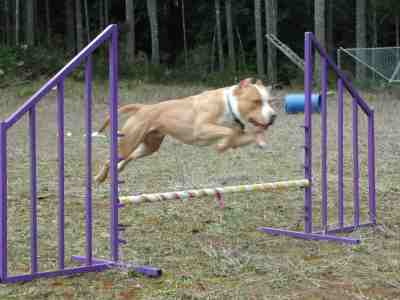 SUPERDOG UAG1 UCD UWP CH 'PR' Matrix's Morpheus Finds the One CGC
Other Bullys to earn the Super dog
Tully
Check out Tully the Staffordshire Bull Terrier who earned his Super dog Status as the 6th dog ever
http://elmothesbt.homestead.com/superdog.html
Click the link or the picture to visit Tully's story